At JATA, we will build a solid industry base and raise the three pillars of
1

Evolving toward value-creating industry

2

Stimulating new demand

3

Promoting a tourism nation
in order to lead in making Japan a travel destination, and continue to fully devote ourselves to implementing specific measures.
We will continue to develop measures leading to value creation including dealing with issues related to the fundamentals of management such as the Travel Agency Law system and airline issues, developing systems for human resource acquisition and training, popularizing organizational safety management, raising awareness of the Quality Assurance System for Tour Operators, etc. With respect to stimulating travel demand, we will continue to promote greater exchange at private level, particularly in the vital markets of neighboring countries, based on a policy of two-way tourism. We will also continue to make proposals toward solving issues that impede the promotion of Japan as a travel destination.
Tourism EXPO Japan
Tourism EXPO Japan is a world-class event which under the keyword gTravelh brings together the power of industries and local regions to promote outbound, inbound and domestic travel. The Tourism EXPO Japan Forum reveals latest trends, business solutions and data analysis in the field of international and domestic tourism while the Business Meeting brings together suppliers and travel agencies from both Japan and overseas; national tourism organizations and businesses from over 140 countries and regions of the world take part in the exhibition, making Tourism EXPO Japan a major contributor to the advancement of the global travel industry.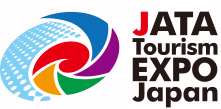 Commendation ceremonies (Japan Tourism Awards)
The Japan Tourism Awards commends excellence demonstrated by Japanese and overseas business organizations and individuals who have contributed to the advancement and expansion of domestic, inbound and outbound tourism. By strengthening the relations with UNWTO through establishing a UNWTO Award category, JATA aims at improving the global recognition and significance of the travel industry.
Management Forum
While management in the travel industry is heavily influenced by regional conflicts, economic crises and natural disasters, the competition has intensified due to the revolutionary development of ICT technology and appearance of new market players. The keynote speech and seminars offer solutions to managerial issues from a macro perspective and, while thoroughly exploring current problems, come up with hints for dealing with them. The forum has become an important contributor to the overall improvement of the travel industry.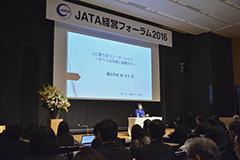 Overseas Travel
We are working on quantitative and qualitative development of overseas travel business such as the Visit World (VW) project stimulating overseas travel demand, eliminating barriers that hinder overseas travel, etc.

Domestic Travel
Through the gOne More Night, One More Timeh Project, which is a part of the gEnjoy Japan to the Fullesth Campaign, JATA works to increase the overnights by domestic travelers, promotes booked-upon-arrival tours in local areas, encourages travel to the region devastated by the Great East Japan Earthquake, etc. Through its projects, JATA contributes to the revitalization of the local communities and their economies.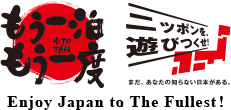 Travel to Japan
We are expanding travel agency services through human resource training which among other things includes recommendations in keeping up with the increase in visits to Japan by foreigners. We established Quality Assurance System for Tour Operators, increased repeat customers through the quality of travel, and are working to expand travel to Japan.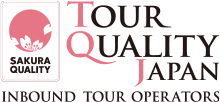 Legal Matters and Compliance
In addition to implementing legal seminars and consultations related to travel industry laws and regulations for all travel agency members and applying the e-TBT Mark System to popularize transactions over the Internet and ensure customer confidence, we conduct research and surveys and make proposals on the legal system in accordance with changes in the social environment.
Guidelines for Online Travel Businesses
JATA established a set of guidelines for selling travel products over the Internet in 2000. These guidelines are aimed at ensuring that electronic business transactions are conducted on a sound and healthy basis that will earn the trust of consumers. To this end, the guidelines set out clear rules which those in the travel industry must observe when selling travel products or carrying out other activities over the Internet.
Travel agencies meeting JATA's guidelines may display the official "electronic-Travel Business Trust" (e-TBT) logo on their web sites. The placement of the e-TBT logo gives the consumer an easily identifiable and concrete way of telling the difference between reputable travel providers and those that are not.

Settlements
For guaranteed employees (full members of JATA) and travel businesses, we conduct settlement claims and the like with respect to travelers who have made transactions. We run a bond guarantee system added to the legal settlement system.
JATA Supplementary Security Bond System
In order to offer adequate compensation for overseas travel, JATA established the JATA Supplementary Security Bond System in 1999. Member companies operating agent-organized overseas tours are strongly encouraged to secure a bond equivalent to 1% of their projected proceeds from packaged outbound travel for the following business year. In case of default or bankruptcy, validated claims can be compensated first through the Compensation Security Bond System (Legal Settlement System) and then out of the JATA Supplementary Security Bond System.

Consumer Consultation
We consult in response to complaints from consumers who have done business with travel agencies about the travel business. We provide the necessary advice and assistance in accordance with the Travel Agency Law and travel industry stipulations.
Training and Testing
We conduct training and testing services including agency services for the Certified Travel Supervisor national examination. We also run programs aimed at training and maintaining excellent human resources in the travel industry, and we operate systems such as the travel counselor system, which is the only qualification system in the industry.
Registration Consultation and Member Services
We perform member services such as distributing materials/documents that members need and provide information, as well as descriptions of our association activities—including overviews of the travel industry registration system—for people who are new to the industry, and promote membership in our association. We also publish the company magazine Jatakomi.