"Declaration of Earth-Friendly Travelers" Established
In 1993, to enlighten industries and consumers, JATA established the "Declaration of Earth-Friendly Travelers" that consist of 3 principles and 8 guidelines and we have spread them through our member travel agencies?f tour pamphlets and websites.
Principles
To protect our beautiful earth for the next generation.
To treasure and preserve irreplaceable nature and our precious cultural assets.
To learn the history, culture and traditions of the places we visit.
Guidelines
Cherish and protect plants and flowers in their natural habitats.
Do not harm wild animals.
Do not buy products made from endangered plants or animals.
Do not litter, take the trash back with you.
Always try to save resources.
Value and respect cultural assets and historical sites.
Respect the customs and lifestyles of the places you visit.
Try to communicate in the local languages.
JATA Environmental Fund
In 2001, JATA has set up the JATA Environmental Fund for supporting sustainable tourism and preserving cultural and natural sites.
Activities aid by JATA Environmental Fund
"Support for Earth-Friendly Environmental Education" for Elementary School Children
In order to develop an understanding for the environment since childhood, JATA has been offering financial assistance up to 100,000 yen for each school for environmental education implemented for elementary school students since 2003 as one of the activities of JATA environmental foundation.
"JATA's Forest" Activity
Since 2009, JATA created a "JATA's Forest" on a mid-slope of Mt. Hodo in Saitama-prefecture as a measure against global warming. JATA member travel agencies participate in the silvicultural activities every year.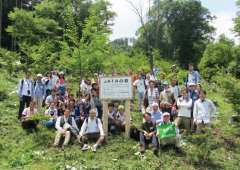 Environment Conservation Activities
Since 2013 JATA member travel agencies participate in environmental conservation activities such as exotic species control, cleaning activities and coral planting, etc. all over Japan.
JATA Pamphlet Recycle System for Travel Agencies
The recycling system started in November 2009. It recycles tour pamphlets that are no longer needed by JATA member companies. JATA donates part of the sales profit of waste papers to JATA environmental foundation. 350 stores of 130 companies participate in the system and about 450,000 kg of pamphlets were collected in 2013.
Promotion for Accessible Tourism
Travel agency manuals
To promote impediment removal for the disabled persons in tour by member travel agencies, JATA have made the "Heartful Tour Handbook" describing consultation from the disabled persons, arrangement and precautions for reception.
Consumers pamphlet
For further understanding of barrier-free travel and travel agencies, JATA created pamphlets describing tips for planning a trip and application method at travel agencies for disabled and elderly persons and their families.
Seminars for member travel agencies
To further increase barrier-free travel in member travel agencies, JATA conducts interactive seminars where customer service staff observe barrier-free situations in public facilities such as airports and experience being a disabled or elderly person.
Helper Dogs Diffusion Activity (guide dog/hearing dog/service dog)
With the aid of the Guide Dog & Service Dog & Hearing Dog Association of Japan and Japan Guide Dog Association, JATA conducts activities for further understanding of helper dogs for tourism industry and consumers.
Tohoku Reconstruction Support
Charity Auction
As part of the Tohoku reconstruction support activities, JATA holds a charity auction during the period of JATA Tourism Expo Japan.
JATA Trail Project
JATA is conducting signpost installation and maintenance work activities on the Michinoku Sea Breeze Trail which is a part of Green reconstruction project* by Ministry of the Environment.
JATA works continuously on these activities through March 2021 to revitalize local tourism, agriculture, forestry and fisheries.
* See details of Green Reconstruction Initiatives by Ministry of the Environment
http://www.env.go.jp/en/wpaper/2013/pdf/04.pdf
Donation for the Philippines Typhoon Disaster
JATA collected donations from JATA member companies for the Philippines typhoon disaster on November 8, 2013 which caused great damage to the central Philippines. JATA collected a total of 1,088,000 yen from 20 member companies including JATA itself and donated it to the Philippine Red Cross via the Philippine Department of Tourism.