Remarks by the Chairperson
Remarks by the Chairperson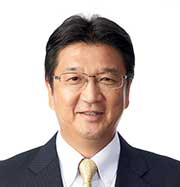 The impact of the COVID-19 crisis has changed the world. The crisis occurred after UNWTO announced that a record 1.4 billion people traveled globally in 2019, and Japan marked new historical records for both inbound and outbound travelers.
At this point, we must return to the starting point and again consider what the role of the travel industry is. Travel and tourism is a sector which encompasses all the tiers of industry - from the primary to the quaternary industry, which connects people throughout the world. As we devote ourselves to the sustainable development of the sector, JATA must strengthen its relations with every travel-related industry while recognizing the fact that people are the driving force in every project and initiative.
Based on the principle gOnly a nation that develops international exchange can be an advanced tourism leaderh JATA has implemented a multitude of policies within Japan and abroad while working to transform Japan into a leader in global tourism. Under the motto ggood to live and good to visith, JATA will continue to develop and implement policies which promote local cultures and advance exchange between locals and visitors, create economic activities and enrich the areas by generating experiences for both the hosts and the guests. We will continue to work for the recovery of travel and tourism and promote international understanding and global peace.


Nobuaki Sakamaki
Chairperson
Japan Association of Travel Agents (JATA)
As of Jun, 2020
Remarks by the Chairperson