Vision
Through our efforts to create new culture and value as well as to ensure environmental conservation, we contribute to achieving sustainable economic development as well as a friendly and peaceful society.
The Dynamism of Travel
"The Dynamism of Travel" consists of:
1

The Power of Culture

Enables us to study and enjoy the history, natural environment, traditions, arts and crafts, scenery and lifestyles of different countries and regions and encourages their discovery, cultivation, preservation, and development.

2

The Power of Exchange

Contributes to the realization of a safe and peaceful society through the promotion of mutual understanding and friendship between different countries and regions..

3

The Power of the Economy

Enables us to increase employment, regional and national development, and to reduce poverty by expanding the travel and tourism industry.

4

The Power of the Wellness

Enables us to energize and vitalize the body and spirit by escaping the stress of everyday life and discovering fresh, new stimuli and excitement, enjoyment, comfort and relaxation.

5

The Power of Education

Enables us to expand personal development opportunities including increased understanding of different cultures, cultivating a sense of kindness and compassion as well as deepening family ties through travel and interaction with the natural environment and other people.
(January.2007)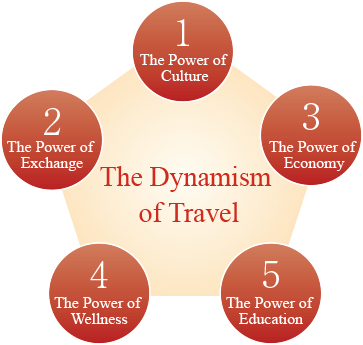 JATA
The logo mark is a symbol of the JATA's pivotal role in the development of domestic, overseas and inbound travel markets. The shape of the mark is a remainder of the rising sun of the Japanese national flag and is derived from the ancient Japanese emblem gtomoeh. The blue part symbolizes the tracks left by jet planes in the sky, the white part stands for the wake of the boats navigating the sea, or in other words, it denotes both inbound and outbound travel.